MORNING TEA & ALLEGATIONS
Morning Tea & Allegations is a morning show that airs on the internet, giving viewers an inside look at education and politics. In less than one year since its debut, this web-based program has become the quintessential morning show for education enthusiasts and politicos alike.
Remember: People Lie. Receipts Don't!
THE WHOLE Child
The WHOLE Child is a show that provides education on how to break cycles of trauma and build positive coping mechanisms, hosted by Kimberland Jackson and Bianca Goolsby. The hosts discuss different topics from mental health issues like depression or anxiety to parenting skills necessary for raising healthy children in this digital world.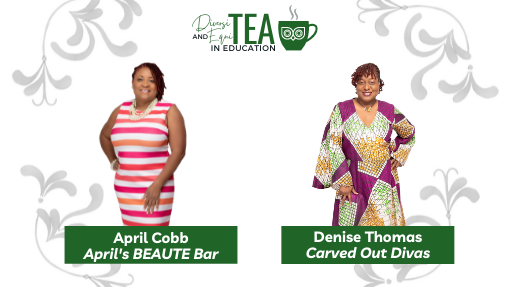 Diversi-TEA & Equi-TEA in Education
Join April Cobb "April's BEAUTE Bar" and Denise Thomas "Carved Out Divas" talk about Education, Community-related matters, and World Issues.
Dope, Brown, & College Bound
It will take our entire village to disrupt the narrative that Black kids don't go to and get through college! Dope, Brown and College Bound is dedicated to increasing meaningful involvement amongst students, parents, schools and community.